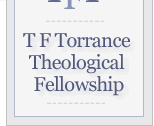 Donation Information
---
As recommended by members, to cover our modest expenses we are asking all our members to make a minimum donation of $10.00 per calendar year. (Since we are not yet incorporated as a non-profit organization, donations are not tax deductible.)

By clicking on the "Donation" button below, you will be taken to another page where you can make a secure donation through PayPal.

Thank you for supporting the TF Torrance Theological Fellowship!
MISSION
A distinctively Christian research organization devoted to the exploration, development, and dissemination of the theology of Thomas F. Torrance and other theologians contributing to this endeavor. Continued...