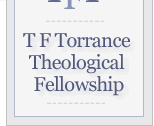 ---
Annual Meeting: 2017
---
Announcing this year's annual T.F. Torrance keynote lecture:
Jason Radcliff, Ph. D. (The University of Edinburgh)
"The Patristic Foundations
of the
Reformed-Orthodox Ecumenical Dialogue."
Mark your calendars for Friday, Nov 16th, 2017 in Boston.
The T.F. Torrance Theological Fellowship is a Related Scholarly Organization of the American Academy of Religion. Annual meetings take place on the Friday afternoon before start of the AAR annual meeting. The TFT Fellowship annual meeting typically lasts from 1 to 4 pm, including a 1/2 hour business meeting, followed by the annual lecture and discussion.
Past meetings: presentations, minutes, media.
---
Jason R. Radcliff, Thomas F. Torrance and the Church Fathers: A Reformed, Evangelical, and Ecumenical Reconstruction of the Patristic Tradition (Pickwick Publications, 2014). Amazon.
Reviews:
"This remarkably well-researched, balanced, and clearly written book is a presentation and review of Torrance's imaginative reconstruction of the theology of the Greek Fathers in view of evangelical theology. In particular, Radcliff rightly highlights Torrance's reading of Athanasius of Alexandria and his doctrine of the homoousios. Not without insightful criticisms of Torrance, Radcliff's stance is strongly appreciative. I recommend this study for both seasoned Torrance students and those who come new to his work.'' --Andrew Purves, Jean and Nancy Davis Professor of Historical Theology, Pittsburgh Theological Seminary, Pittsburgh, PA.
"Dialogue between the Eastern Orthodox and the Reformed Protestant traditions was central to the life and work of T. F. Torrance. Jason Radcliff has now produced a much-needed overview of his extensive and intensive efforts in this area. Radcliff has a sure grasp not only of Torrance himself, but also of the patristic sources he engaged. Radcliff also delves thoughtfully into current patristic scholarship in order to support and critique Torrance's work. This is a judicious and careful piece of scholarship--one that is full of promise for the future of ecumenical theology.'' --George Hunsinger, Hazel Thompson McCord Professor of Systematic Theology, Princeton Theological Seminary, Princeton, NJ.
"T. F. Torrance's theology developed in large measure through conversation with the early church fathers, especially Athanasius, Cyril of Alexandria, and Gregory Nazienzen. As such, his theology provides an exercise both in retrieval and creative appropriation. Jason Radcliff's study now offers an invaluable commentary on this reading of early church thought. It is a welcome and significant contribution to the growing literature on Torrance.'' --David Fergusson, Professor of Divinity and Principal of New College, University of Edinburgh, Scotland --Wipf and Stock Publishers.
---
MISSION
A distinctively Christian research organization devoted to the exploration, development, and dissemination of the theology of Thomas F. Torrance and other theologians contributing to this endeavor. Continued...