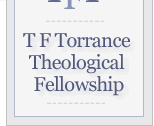 Update your:
TFT Theological Fellowship Membership.
---
Items marked with * are required, then please fill in only
the information that has changed.
MISSION
A distinctively Christian research organization devoted to the exploration, development, and dissemination of the theology of Thomas F. Torrance and other theologians contributing to this endeavor. Continued...