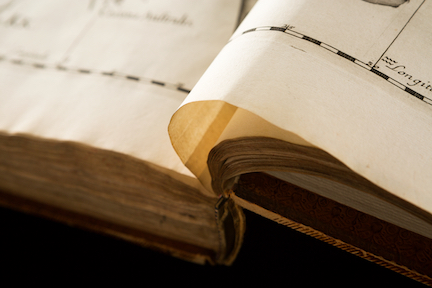 Icons: Bibliographies; News/Events; Profiles (see below)
---
The photographic icons found throughout this website are taken from Elisabeth and Johann Hevelius, Firmamentum Sobiescianum sive Uranographia (Gdansk, 1690; "The Firmament of King Sobiesci, or Map of the Heavens"), courtesy the History of Science Collections, University of Oklahoma Libraries.
The beautiful Uranographia, the most detailed and influential celestial atlas of the 17th century, contains 54 double-page engraved plates of 73 constellations and 2 oversized folding plates of planispheres (one of which is the icon for People Profiles).
The frontispiece (used as the News and Events icon) shows Johann bringing his modest gifts before a tribunal of great figures in the history of astronomy. These gifts are the new constellations proposed in this work: the shield and sextant he carries, and the animals trailing behind. Of the 12 constellations they created, 7 are still recognized today. One is the Lynx, in recognition of the far-seeing eyes of astronomers. 
To the webmasters, Kerry and Brent, this depiction of a great astronomer carrying out his work among a cloud of heavenly witnesses seems appropriate for the work in theology, astronomy and other fields being carried out by members of the Thomas F. Torrance Theological Fellowship, who come before one another in the annual meeting and in various venues, virtual and physical, to advance the mission of the Fellowship. 
The above information is excerpted from our Lynx Open Ed website, where you may explore the Hevelius star atlas and, given the embedded nature of theology in community, the interesting collaboration of Elisabeth and Johann. We offer a brief survey of historical star atlases, including the Hevelius atlas, with an emphasis on interdisciplinarity, here.

Bibliographies icon.  
"Of anything beyond these, my child, beware. Of making many books there is no end, and much study is a weariness of the flesh." (Ecclesiastes 12:12)

News and Events icon.  
"Therefore, since we are surrounded by such a great cloud of witnesses, let us throw off everything that hinders and the sin that so easily entangles. And let us run with perseverance the race marked out for us..." (Hebrews 12:1)

Profiles icon.
"so that you may be blameless and innocent, children of God without blemish in the midst of a crooked and perverse generation, in which you shine like stars in the heavens." (Philippians 2:15)