Member and Mentor Profiles; & how to navigate using Taxonomies
---

1. Log in.
If you cannot log in, or do not have a username and password, contact the webmasters (cf. Join).
---
2. Click the Members tab.
Basic information about membership is provided here, along with access to a password-protected Member Directory. Browsing the Member Profiles in the Directory is a benefit of membership.
---
3. Click Member Directory.
In the Member Directory, click "Noble" to open the Member Profile of Thomas A. Noble.
---
4. Survey the member profile layout: left sidebar; middle for main content; right sidebar. 
Member Profiles include statements about research interests by members, plus various clickable taxonomy terms that integrate the Profiles with resources and the bibliographies.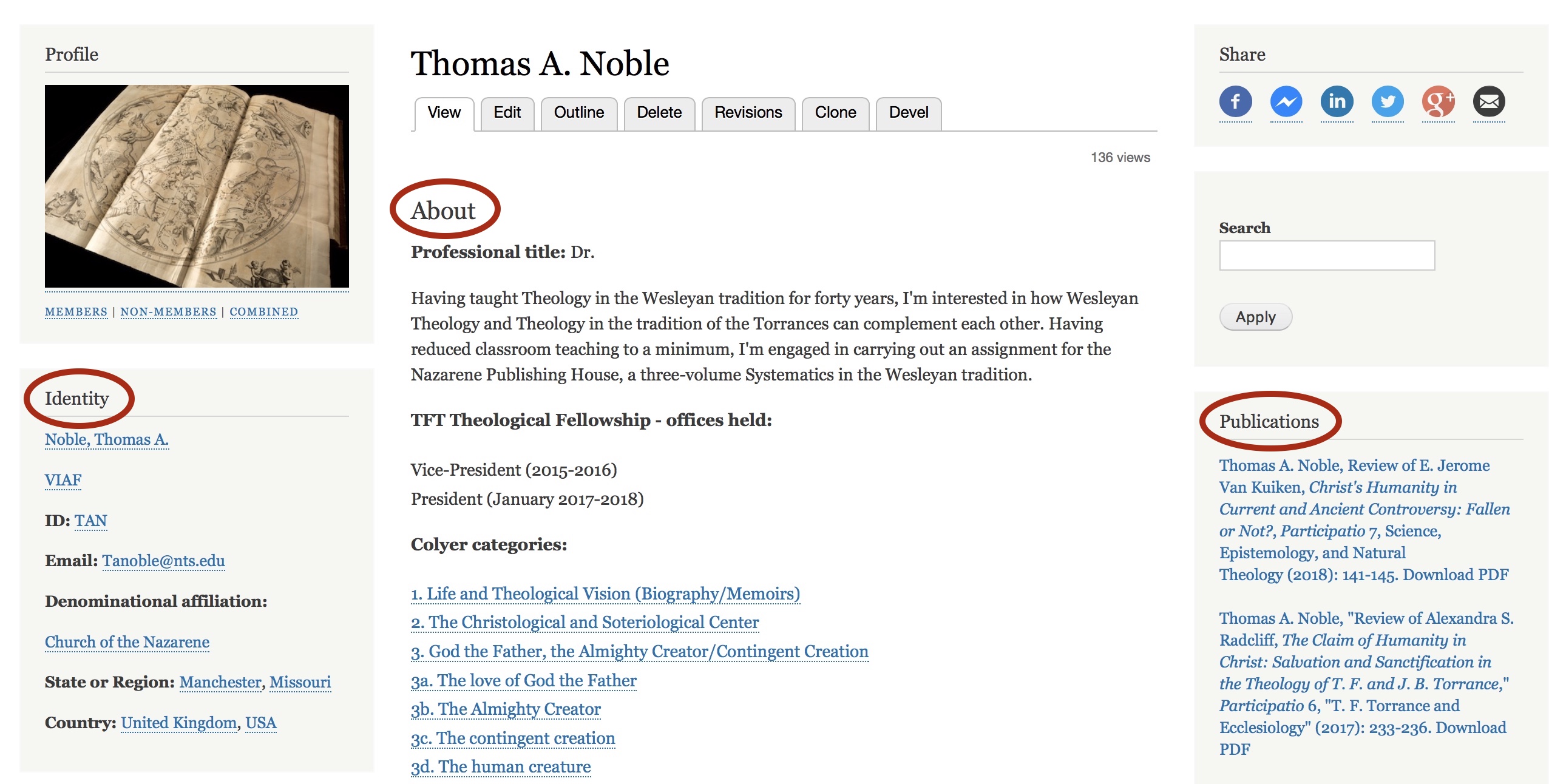 Development note: Ignore the duplicates and other anomalies in the member publications sidebar; we are still tweaking the filters applied, and these will be eliminated soon. In general, please ignore rough edges everywhere!
In the right sidebar, click on Tom's review of Jerome Van Kuiken, Christ's Humanity in Current and Ancient Controversy.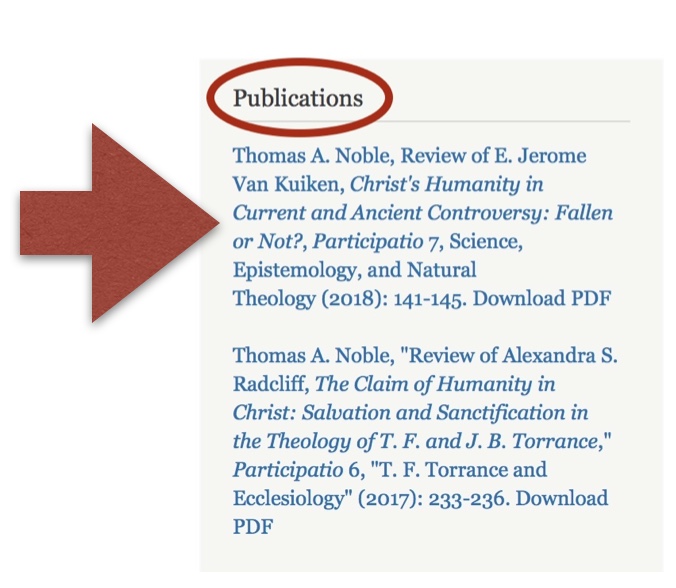 You will be taken to a bibliography page in the Studies bibliography for this book review.
Development note: We concentrated on developing the Sources bibliography, and have hardly even begun to enter items in the Studies bibliography. Only the most recent Studies are entered; we'll catch up working backwards in time over coming months.
---
5. You are now on a bibliography page. This book review appeared in the Fellowship's journal Participatio.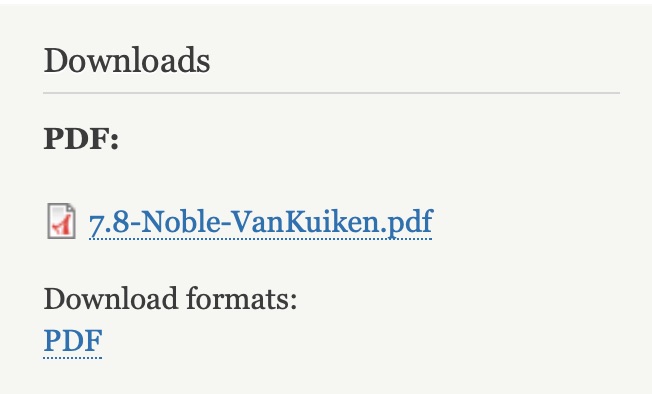 – Look for "Downloads" in the right sidebar, just beneath the Item Links block. From a download link there you may open a PDF of the review.
– Do you see the Genre Type tag for Book Review in the left sidebar?
– In the right sidebar, click the Details disclosure triangle, located beneath Related Studies. Click the ID number that appears: 2017-EJVK-1.
---
6. You are now on the Studies record for the book itself.
Do you see the tag for "Book" in the left sidebar?
In the left sidebar, click on the author's name, "Van Kuiken, E. Jerome."
---
7. You are now viewing a "taxonomy index" page. 
A "taxonomy index" compiles every page on the website tagged with a given "taxonomy term."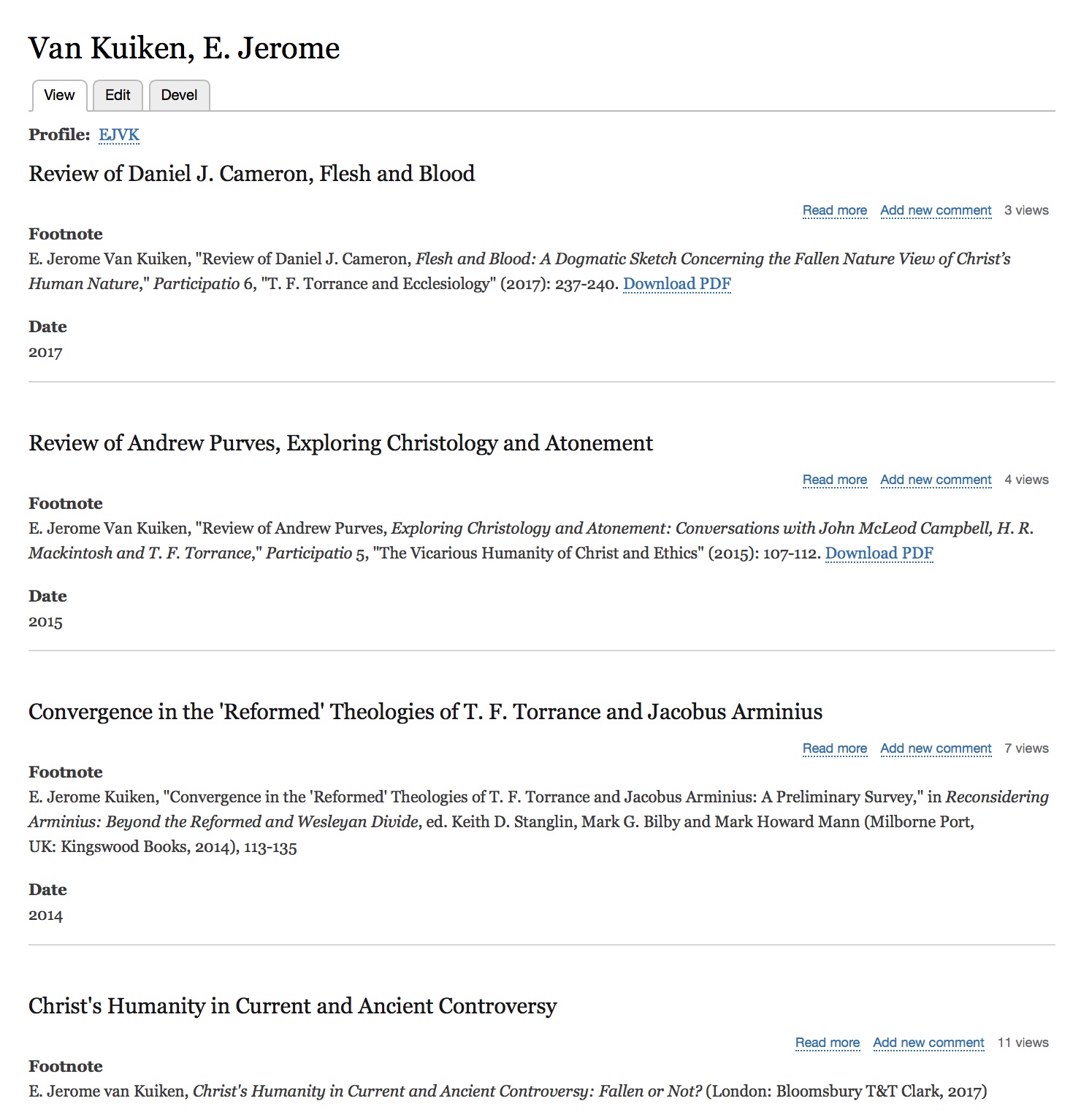 In this case, Jerome's name is the "taxonomy term" and this is a list in the All Souls taxonomy (= personal names). An "All souls" taxonomy index displays every page in the website where a given individual is tagged as an author, editor, translator, or contributor in some role. Survey the list if you wish, then scroll back up to the top. 
At the top of the taxonomy page is "Profile: EJVK." EJVK is Jerome's Person ID. Click on "EJVK," which here is a link to Jerome's Profile.
---
8. You are now on Jerome's Member Profile page.
Read about Jerome in the "About" and other narrative fields. Does he mention his doctoral supervisor? 
Also look for the doctoral supervisor field. In that field, click his supervisor's name.
---

9. You are now on the taxonomy index for Jerome's mentor.
At the top, after Profile, click "TAN" to return to a Member Profile we have already seen.
---
10. On the Member Profile page for Tom Noble, look for his teachers/mentors.
Click on "Thomas F. Torrance."
---
11. You are now on the taxonomy index for Thomas F. Torrance.
(Don't give in to the temptation to scroll this taxonomy index; it is endless!) 
Click "TFT" to go to the Profile page for T. F. Torrance.
---
12. Survey this Profile page and consider how it differs from the Member Profile page viewed previously.
If a person is not a member of the T. F. Torrance Fellowship, their page is a Mentor Profile. Member and Mentor profiles offer the same fields, although they may appear differently if different fields are left blank.  (Empty fields are not displayed.)
Mentor Profiles, like the Member Profiles, are accessible only to members who have logged in to the website.
Obviously, this page lacks crucial information! Building out the Member and Mentor Profiles has not been a priority for us yet; it is one of our chief goals for collaborative implementation in 2019 with the help of you and other TFT Fellowship members.
Scan the body of the TFT profile and find the section that lists his students. Is Tom Noble listed there?
---
13. In the left sidebar, under "Siblings," click "Torrance, James B."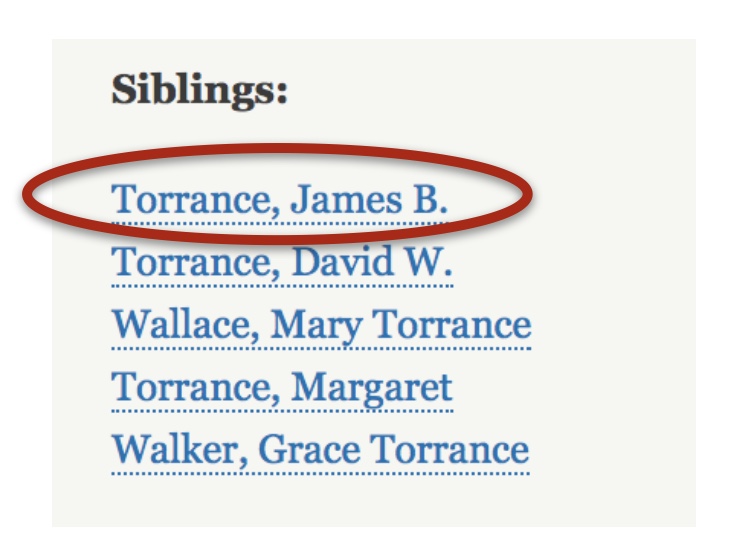 You will see the taxonomy index for James.  

Click "JBT" at the top to go to James' Profile.  (Again, it is woefully incomplete!)
---
14. On JBT's Profile, under "Students," click "Deddo, Gary W."
What kind of page do you see now?
Are taxonomy index pages starting to become familiar?
---
15. At the top of Gary's taxonomy page, click "GWD" to go to Gary's Member Profile.

Taxonomies:  You have now used taxonomy indexes to navigate between multiple profiles and bibliography records. This is a powerful technique, for by exploring taxonomy lists you may click your way virtually anywhere throughout the website. So far we have used All souls taxonomy indexes to move between pages from different sections of the website associated with a specific person. Yet you can use other taxonomy indexes to navigate between pages on the basis of characteristics other than people. 
Try it by clicking "Grace Communion International" in the left sidebar of Gary's profile to see other pages associated with this denominational affiliation. After viewing that denominational affiliation taxonomy index, use the back button in your browser to return to Gary's member profile. 
In general, look for many different types of taxonomy links to take you to different kinds of taxonomy pages. Various kinds of taxonomies include indexes for Coyer Categories, Genre types, institutional affiliations, etc. Think of taxonomies as strings you can follow to thread your way around, across and through the website, like a labyrinth with a potentially infinite number of solutions. 
The diagram above summarizes how taxonomy terms are embedded in pages across the website. The pages may be of different content types (e.g., blue or green). Clicking on a taxonomy term embedded in one page (e.g., Term 5 on Page A) is more powerful than a direct hyperlink, because it goes first to a taxonomy index, from which you can choose among the potentially myriad destinations (e.g., Page Q, on which Term 5 is also displayed).
---
16. Look over Gary's Member Profile. In the right sidebar there is a list of publications. In the right sidebar, click the chapter title for "James B. Torrance on the All-Inclusive Humanity of Jesus Christ," from the book Trinity and Transformation.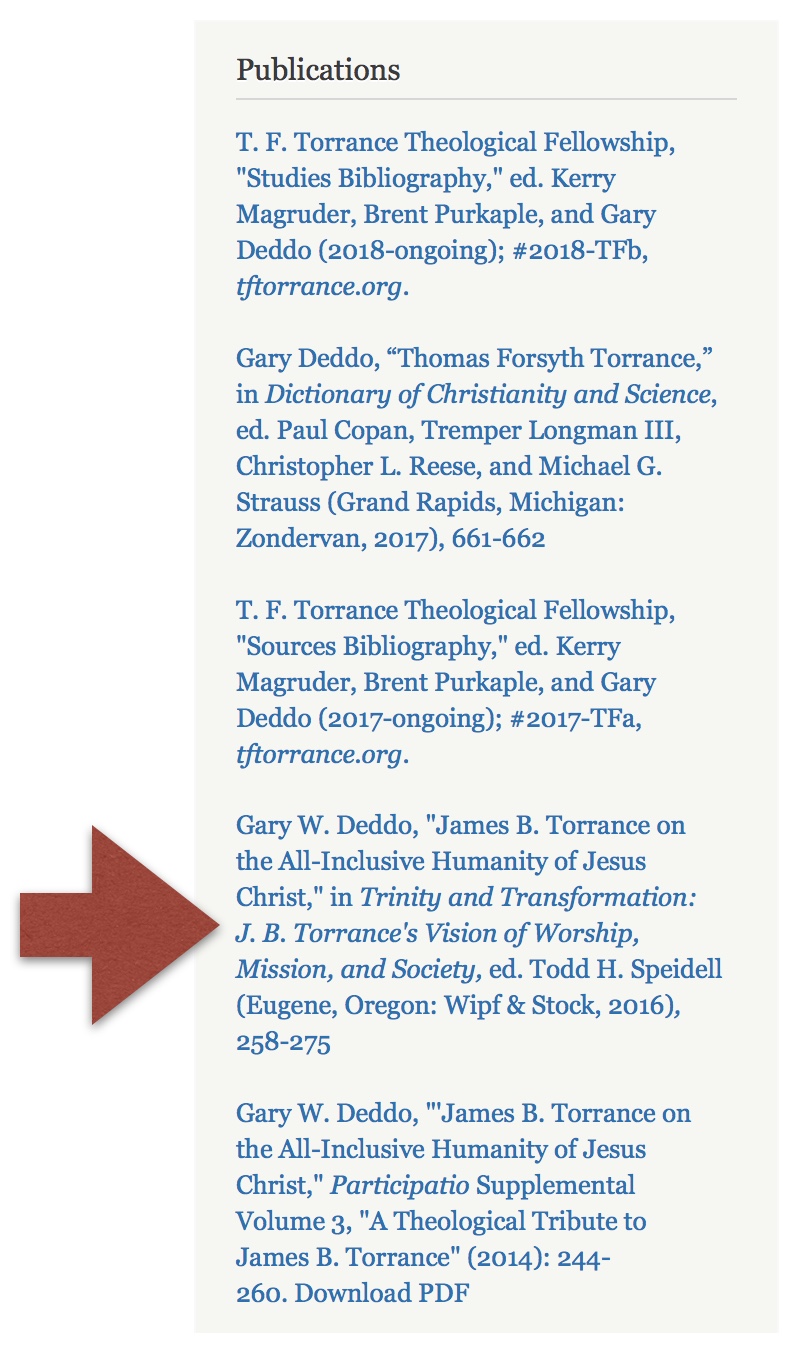 With this click, you will again move out of the Member Directory and into the Bibliographies section of the website.
---
Time to stand up and stretch, and get a cup of coffee. This is where we'll resume in the next section.